Whether you're looking for a wireless gaming keyboard, or just finding one to fit in your budget and won't burn a hole in your wallet. When looking for a gaming keyboard, it's hard not to be confused by all of the options out there.
In this blog, we'll be breaking down our best picks for mechanical gaming Keyboards, to hopefully help you narrow down your decision.
So far, we've bought and tested over 109 Keyboards and we'll be listing our picks into 5 main categories. The best full-sized gaming keyboard, The best TenKeyLess gaming keyboard,
The best wireless gaming keyboard, The best keyboard for MMO gaming, and The best budget gaming Keyboard.
I'd like to note that we choose these Keyboards based on our testing, but also factor in price and feedback from the community. So if our Keyboard is slightly better than another, but at a much higher price, we tend not to recommend it.
I would also like to note that with so many different Mechanical switch options that are available, Gaming Keyboards can be subjective and the best one for you depends on your personal preference and needs.  With that said let's begin. 
1. Mechanical Gaming Keyboard: SteelSeries Apex Pro
Let's start the list off with The best full-sized gaming keyboard. The best one we've tested is the SteelSeries Apex Pro. It's a wired-only mechanical keyboard that features their uniqueOmniPoint switches which have a linear feel.
It also has a cool feature that allows you to set the pre-travel distance of your keystroke that best suits your gaming needs by customizing it in the SteelSeries Engine Software.
The Apex Pro is a very well-built keyboard, it is solid and has hardly any flex thanks to its aluminum top plate. The ergonomics are good, it has one incline setting and comes with a nice magnetic wrist rest.
It also has full RGB backlighting with individually-lit keys that can be controlled directly on the keyboard or fully customized in the software.
There are dedicated media controls and an OLED screen that allows you to change settings and profiles without having to minimize the game.
You can also customize it to display almost anything you would like, such as an image or text.
There's also a USB passthrough that you can use to charge your mobile devices or to plug in another device such as your mouse.
On the software side, the SteelSeries Engine is user-friendly and is available on Windows and macOS. It allows you to set macros to any key and customize the backlight.
You can even save your preferred profile on the keyboard's onboard memory, meaning you won't have to redownload the software if you use the keyboard with another computer.
All in all, this is the best full-size gaming keyboard that we've tested, and it should satisfy most casual and serious gamers alike.
2. Best TKL Gaming Keyboard: SteelSeries Apex 7 TKL
Next up, The best TenKeyLess gaming keyboard that we've tested is the SteelSeries Apex7 TKL. It's a wired-only keyboard and just like the Apex Pro, it feels very well-built.
It has an aluminum top plate that provides rigidity and the key stabilizers are great as there is no wobbling or rattling to the keys. The ergonomics are also good, thanks to the detachable wrist rest and adjustable incline setting.
Our unit uses SteelSeries Brown switches, which are tactile and quiet and require very little force to actuate.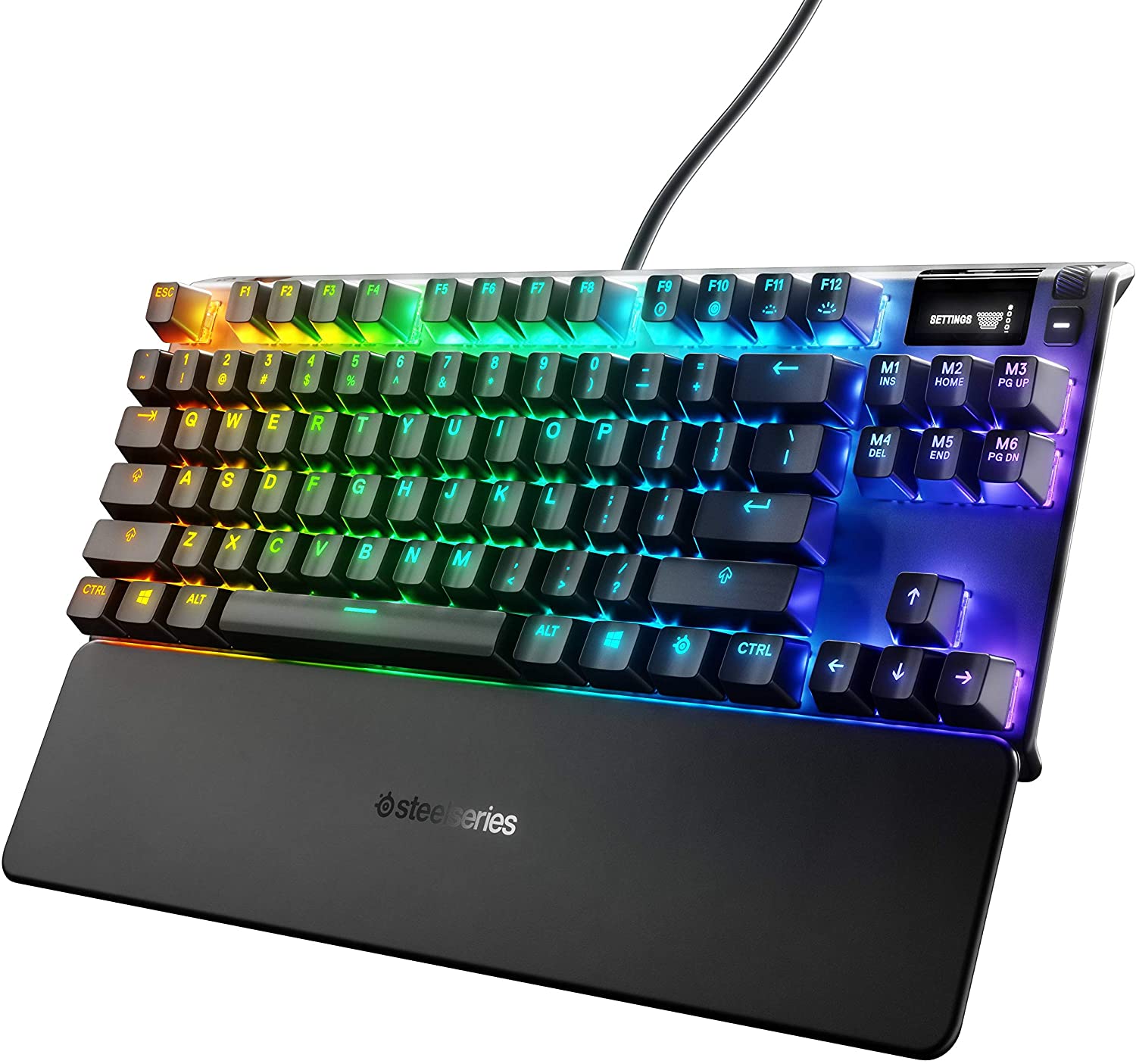 It's also available with SteelSeries Red or Blue switches, so you can choose according to your preference. It has dedicated media controls, and just like the Apex pro, it has an OLED screen that allows you to change your settings and profiles.
The Apex 7 TKL has a fully customizable RGB backlighting that is bright enough to see in a well-lit room and perfect for those in a darkroom setting. Macro programming can be done directly on board or in the software.
The SteelSeries Engine software as we previously mentioned allows for plenty of customization options to make the most out of your keyboard.
3. Best Wireless Gaming Keyboard: Razer BlackWidow V3 Pro
Now onto the best wireless gaming keyboard that we've tested. Our pick is the RazerBlackWidow V3 Pro. You can connect to it over Bluetooth and pair it up to three different devices or connect using its proprietary receiver.
It has an overall excellent build quality with an aluminum top plate that exhibits very little flex. It has a straight design with two incline settings and a detachable plush wrist rest, making it comfortable for long periods of use.
The variant we tested, uses Razer Green switches that feel very light to type on. They do require a lot of force to actuate, and they give loud clicky feedback when a key is pressed.
If you don't like clicky switches, it's also available with linear Razer Yellow switches. Through the companion software, you can customize the full RGB backlighting, reprogram the volume control wheel, and set macros to any key you want.
It's important to note that the companion software isn't compatible with macOS, But Macros can be recorded and saved directly on board.
4. Best MMO Gaming Keyboard: Corsair K100 RGB
Let's move onto the best keyboard for MMO gaming. And the best one we've tested is the Corsair K100 RGB. It feels very well-built, thanks to the metal top plate and solid plastic base, which exhibits hardly any flex.
The keycaps are made of Doubleshot PBT and feel nice to the touch. The keys also feel stable with little to no wobble. The K100 RGB is a straight board with two incline settings and a padded wrist rest that attaches magnetically.
Our unit has linear Cherry MX Speed switches. Which provides no feedback but feels very light and responsive.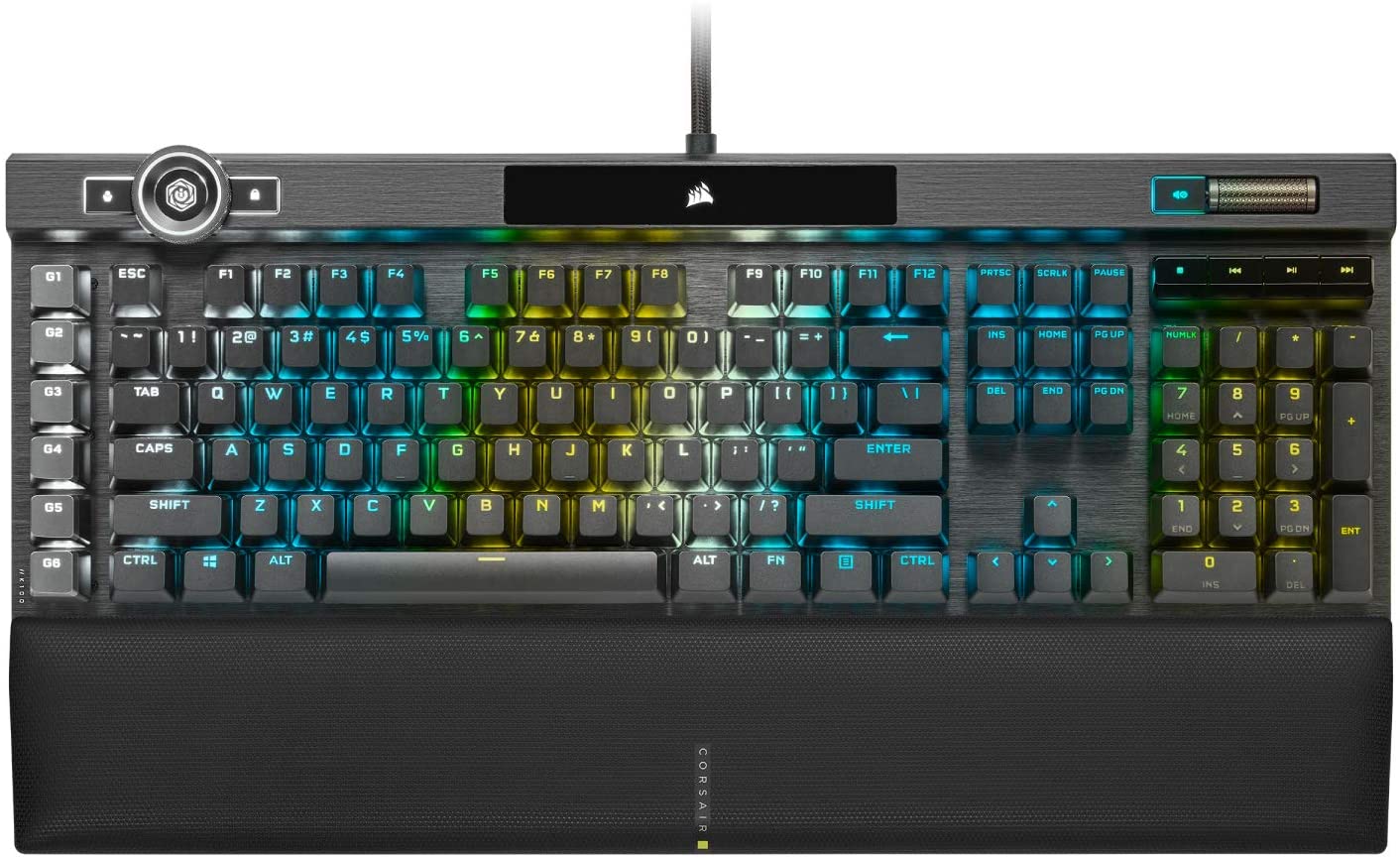 If you prefer something different, it's also available with Corsair OPX optical switches, which are advertised to have an even lower pre-travel distance.
All of the keys on the K100 RGB are macro-programmable, including the volume wheel, and media keys. It also has dedicated macro keys on the left side of the board.
It features a unique ice wheel that lets you adjust brightness, rewind or fast forward media, scroll through applications, and zoom in or out of windows, but you can also remap all of these to other actions if you wish.
It has full RGB backlighting with individually-lit keys. It has 44 RGB zones and a strip of lighting on the left, right, and the top-side edge of the board that will add an extra flair to your desktop. All of these customizations can be done through the iCUE software.
5. Best Budget Gaming Keyboard: Logitech G413
Now onto the best budget gaming keyboard! and our pick is the Logitech G413. It's a very straightforward model that's fairly well-built with a nice brushed aluminum finish and very little flex to it.
It uses tactileRomer-G switches which have a fairly low pre-travel, and each keystroke feels light and responsive for gaming!
The G413 has a few extra features like media hotkeys and a USB passthrough. It also has individually backlit keys, although the only color available in red, it does get bright and you can set effects to the backlight through the Software.
And speaking of software, The G HUB companion software will also allow you to easily set macros, though only the function keys are macro-programmable.
Unfortunately, the ergonomics are only okay, as there's no wrist rest and only one incline setting, so it may get uncomfortable after long periods.
Also, the ABS keycaps feel a bit cheap, and there's no onboard memory. But nevertheless, this is an excellent budget option.
Notable Mentions
1. HyperX Alloy Origins
Before ending, I'd like to go over a couple of notable mentions.  First is the HyperX Alloy Origins Keyboard. It has an outstanding build quality thanks to its Full aluminum body that is coated ina soft-touch finish.
Its linear switches are incredibly responsive and light. It has full RGB backlighting that can be easily customized.
2. Razer Huntsman Tournament Edition
All keys are Macro programmable and it can be done through its software. The downside is that its software is only available for windows.
On the whole, even though this keyboard doesn't offer anything particularly unique, its overall performance and build are still very impressive and worth the mention.
The next Notable mention is the Razer HuntsmanTournament Edition. It has an excellent build quality. It's made from hard plastic, with an aluminum top plate. the keycaps are doubleshotPBT which feels great to the touch.
3. Razer BlackWidow Elite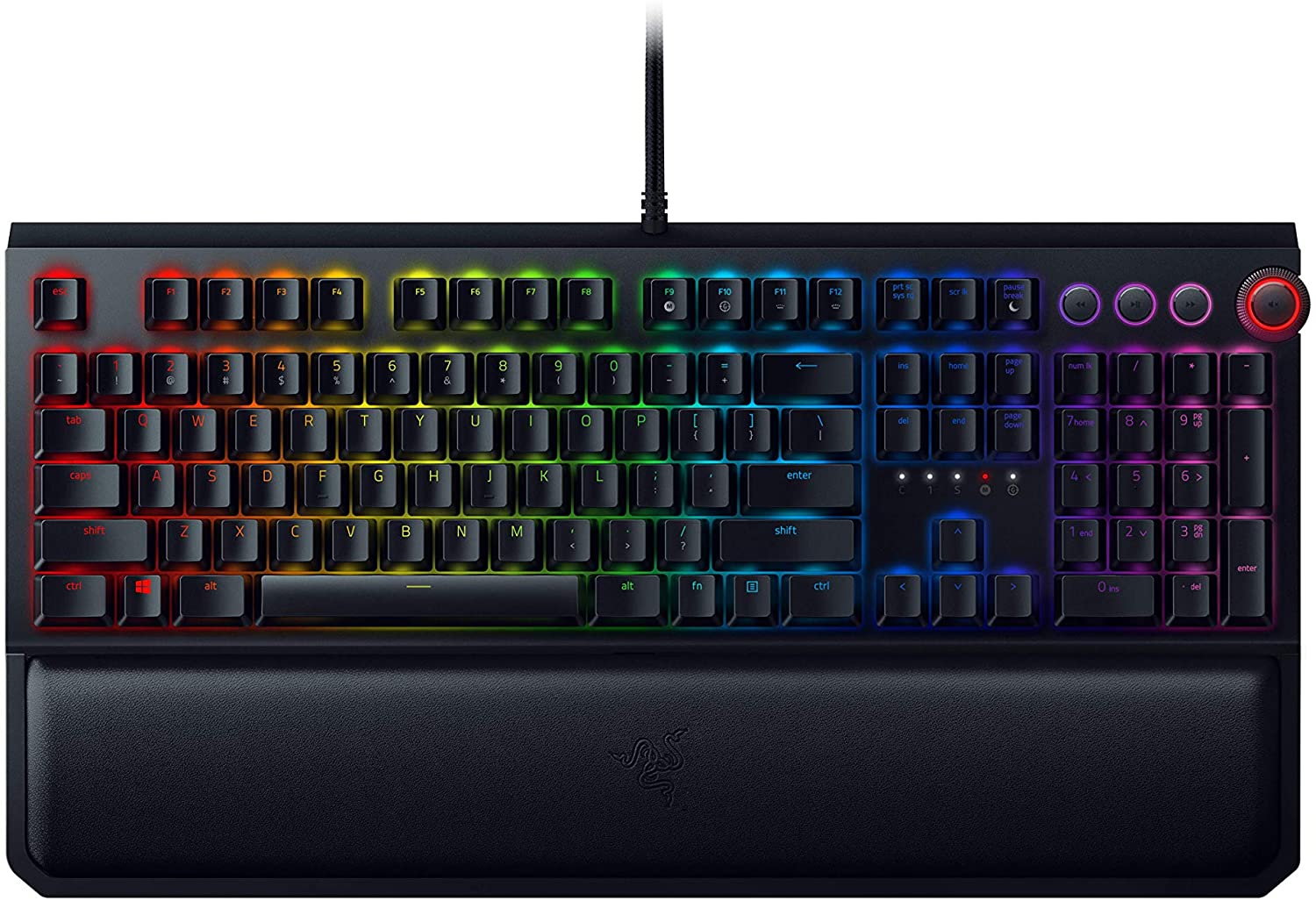 The keys are also extremely responsive and light, and they are all Macro-programmable. The RazerHuntsman TE has full RGB backlighting that is easily customizable.
The last notable mention is the Razer Blackwidowelite. It's an outstanding gaming keyboard thanks to its short pre-travel distance and low actuation force.
It's also very well-built, and gamers should appreciate its customization options, whether it's controlling the full RGB backlighting or recording macros.
It's available in three different switch types so you can choose your preferred gaming experience.