Are you looking for the best routers for gaming?
Here you can find the best Gaming Routers from leading manufacturers in the market today. A router is the basic need of every gamer out there. It is the link between your console or computer and your home internet.
They are used for several purposes such as gaming, streaming video, and more. When you are looking for a top-rated and best gaming router then you need to make sure that you use a brand name such as TP-LINK. TP-Link is known for its premium performance of its routers.
This company is not new to the home routers for gaming. We have been able to review their best gaming router so far. We give it 4 out of 5 stars and we just loved it.
If you are looking for the best router for gaming in India, you must read this top-rated review of TP-LINK wireless AC3000 Tri-Band G3 AC1900 Gaming Router.
We have given a detailed analysis of this top-rated router and now let's have a look at the TP-Link G3 AC1900 Dual-Band Gaming Router.
1. Linksys WRT AC3200ACM #Gaming Routers
The Linksys WRT AC3200ACM can be best described as an enterprise-grade high-end machine which would make for the ideal gaming-router provided you can live with the price tag.
To begin with the obvious, the Linksys WRTAC3200ACM has it all and then some, everything in a very balanced all-round package: excellent performance, classic design, and great software.
The cherry on top is that you can even install3rd party software on this machine, which is as good as it gets.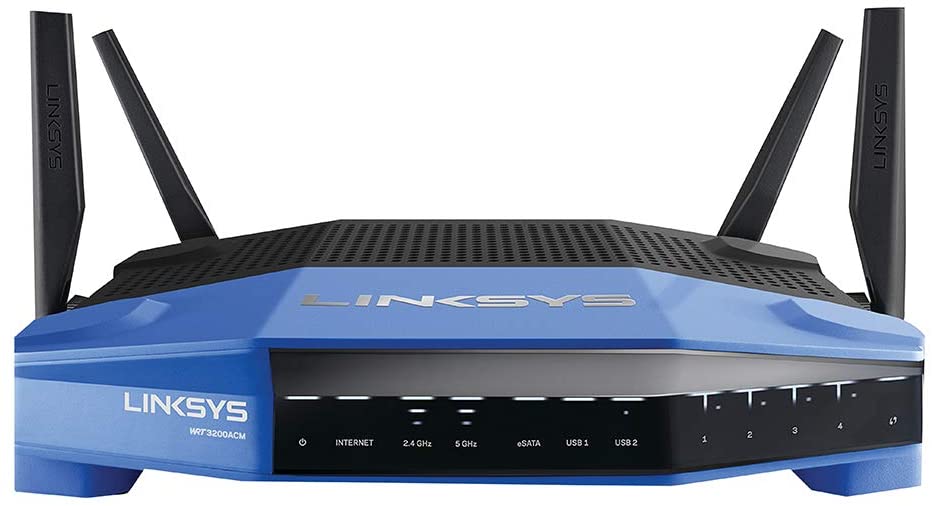 And speaking of hardware, this open-source machine ticks all the important boxes we've told you in the preamble of the article: Tri-Stream160 technology, which literally doubles the bandwidth on network streams, a powerful dual-core CPU clocked at 1.8 GHz for handling heavy traffic, 512 MB of RAM, and 256 MB of flash memory.
There's also dual-band Wi-Fi support for speeds of up to 2.6 GBPS (2.4 GHz / 600 Mbps)+ (5 GHz / 2600 Mbps), MU-MIMO, an USB 3.0plus an eSATA/USB 2.0 hybrid port plus gigabitEthernet.
2. TP-Link Archer C5400X #Gaming Routers
Even if this little monster looks like an alien artifact, the TP-Link Archer C5400Xis actually a superb dedicated gaming router, big and expensive, yet perfect for hardcore gamers looking for the best gear money can buy. Oh, and it even works with Alexa Echo, but that's another story.
To begin with the basics, the TP-Link ArcherC5400X is powered by a quad-core 64 bit 1.8GHZ CPU, which makes it incredibly fast, as expected from a gaming router focused on high performance.
On top of that, you'll get 3 auxiliary co-processors(this is the mother-ship of gaming routers),512 MB of storage space, and 1 GB of RAM.
To make a long story short, the TP-Link'sArcher C5400X is essentially a big and expensive gaming router that combines top performance with built-in security and range to rule over any gamer's mansion.
And speaking of design, this router is an absolute unit, i.e. it's really big, heavy, and power-hungry. Yet, if you can live with the price tag, it doesn't get much better than this one.
3. NETGEAR Nighthawk Pro Gaming XR300 #Gaming Routers
If you're the kind of "play hard, go pro" gamer, the NETGEAR Nighthawk Pro Gaming XR300may very well have your name on it.
Why? The main selling point of this gaming-centric router is arguably its Quality of Service feature, which is fine-tuned to meet and exceed anyone's gaming needs.
As we already explained to you, the QoS thing prioritizes internet traffic for gaming devices, a feature that comes in handy in a multi-user environment.
And in this regard Nighthawk Pro Gaming XR300does a great job, i.e. you'll get the best bandwidth allocation for your gaming needs.
Moreover, the router comes with a lag-free gigabit Ethernet port, as basically everything is designed to minimize lag and maximize bandwidth.
And then we have another cool feature, the Netgear's DumaOS respectively, which looks just like a game HUD, i.e. it's designed to win the hearts and minds of gamers, unlike the boring interface used by other so-called gaming routers.
4. D-Link EXO AC2600 MU-MIMO Wi-Fi Router #Gaming Routers
If you're looking for a no-nonsense (asin affordable and simple) router that does a great job in gaming, this D-Link machine may fit the bill. The main selling point of the D-Link EXO AC2600from a gamer's point of view is two-prong: first, you won't have to pay through the nose, and second,
you'll get Advanced ACSmartbeam and MU-MIMO, which in laymen terms means you'll benefit from the strongest bandwidth for your online gaming, along with maximum signal for the locked-in device, every time, 24/7.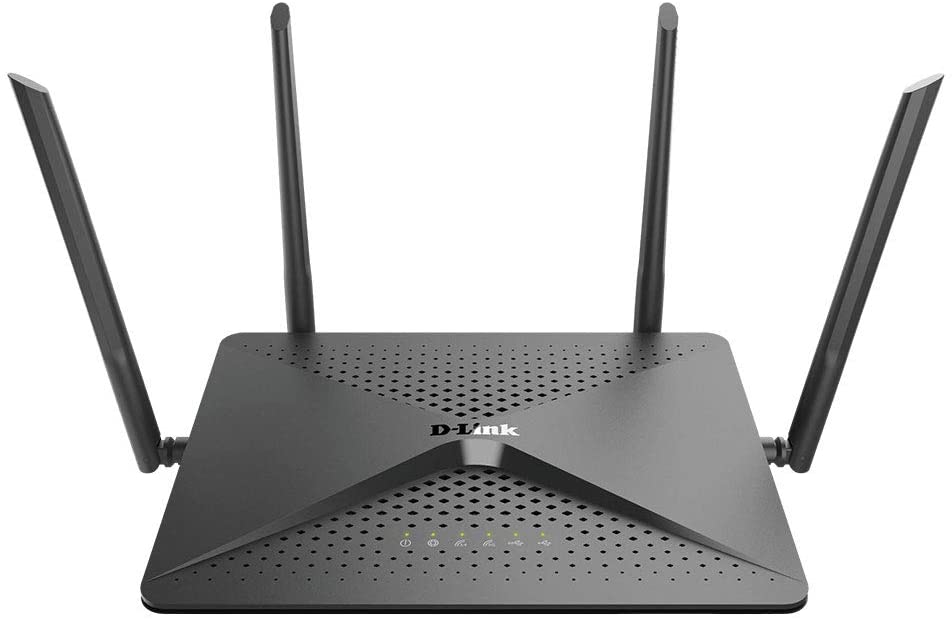 The router comes with 4 powerful antennas and a dual-core CPU, along with multi-userMIMO technology, which means gaming and/or streaming on multiple devices will be a child play, without compromising performance (speed and ping) in the process.
On top of that, the D-Link EXO AC2600 boasts intelligent QoS, i.e. this baby ticks all the important boxes of a proper gaming router. The only downside is that you'll get 256MBof RAM and 128MB of flash storage.
5. ASUS ROG Rapture GT-AX11000 #Gaming Routers
ASUS ROG is pretty much synonymous with hardcore gaming and considering the fact that ASUSchose to put their ROG brand on the GT-AX11000router speaks volumes.
And then, you take a look at it and you'll get it: as far as gaming-centric routers go, this ASUS ROG is the king of the hill. The same goes about the price-tag, as this baby is one of the most expensive routers for gaming out there, but let that go.
So, what do you get for s bucket of money? To begin with, you'll take a bite of history, as the Rapture GT-AX11000 is the first 802.11axrouter made by ASUS (and the world's first if memory serves).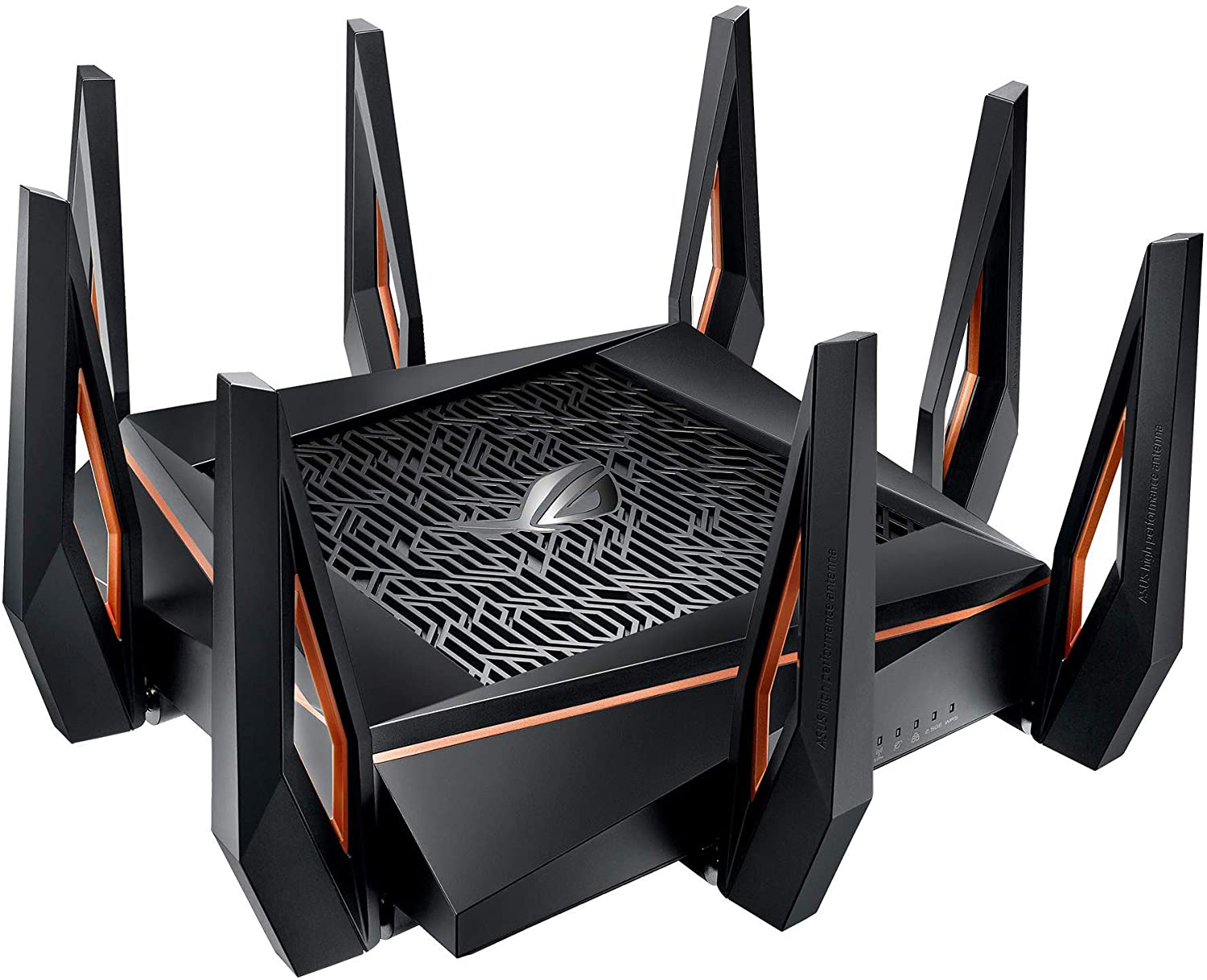 Then, you'll get a premium product from one of the world's biggest tech companies. But what about the juicy details? Well, besides its alien-like design and premium price-tag, the Rapture GT-AX11000 really has it where it counts: a quad-core CPU clocked at 1.8 GHz, 1 GB of RAM, and 256 MB of memory for firmware and custom settings.
Hardware-wise, this ROG product is as good as it gets. Oh, and you'll also get 8 X Giga ports, a state-of-the-art 2.5 GBS wired connector, amazing Wi-Fi performance which actually improves with distance, and all the customization options in the world.
Finally, after registering the router, you'll get access to Asus' Gamers Private Network, which means no more lost packets and lower latency. Bottom line: if money is no object, just go for it and thank us later.