Footprinting in Ethical Hacking | What is Footprinting and reconnaissance
Today I will explain what is footprinting and will explain in detail how hackers use footprinting to get system information easily.
Footprinting is the process of collecting as much information as possible about a target system /network for identifying different ways of intruding an organization's network.
One of the basic and most important steps of hacking is footprinting also known as reconnaissance is the technique used for gathering information about the computer system to get this information a hacker might use various tools and techniques to hack a target computer system.
This information is very useful to a hacker who is typing to crack a whole system hacker use footprinting to gather as much information about the target as possible.
so they can easily get into a system or network and if a hacker gets into the system it is very easy to take
control of the target system and steal target sensitive data and information.
Types of Footprinting
Find OS version
Collect basic info
Footprinting through Search Engine
Footprinting through social engineering
Website Footprinting
WHOIS Footprinting
Email Footprinting
DNS Footprinting
Network Footprinting
There are two modes of Footprinting Active and Passive
Active Footprinting
active footprinting you have some direct touch with the website's network servers and the systems that you don't do attack the network or system. active footprinting is more accurate compared to passive footprinting.
what we do perform network and port scanner for fingerprinting the operating system banner grabbing the services you can use ping and traceroute to man the network.
active footprinting is more direct and involves some amount of direct contact with the live environment
which means more potential for getting noticed active footprinting normally comes after passive footprinting.
Footprinting through Nmap
-sC for default scripts
-sV Enumerate running service and versions
-O Enable OS detection
Passive Footprinting
In passive mode footprinting, it is nearly impossible to be detected if you are trying to gather information from a company website you know that websites can track your IP address and geolocation there are tools and techniques to do that.
you can also look at social engineering to gather information on social media and job posts like LinkedIn, Indeed, hire.google, etc.
Footprinting through Whois Record
WHOIS is a very large database and contains information about approximately all websites. It can be searched by the domain name. The whosis database provides the IP address and DNS information and other useful information.
Whois database provides
Domain Registrar Name
Registrar Abuse Contact Email and contact mobile Number
Organization Name
Registrant State/Province
Registrant Country
DNS Name Server records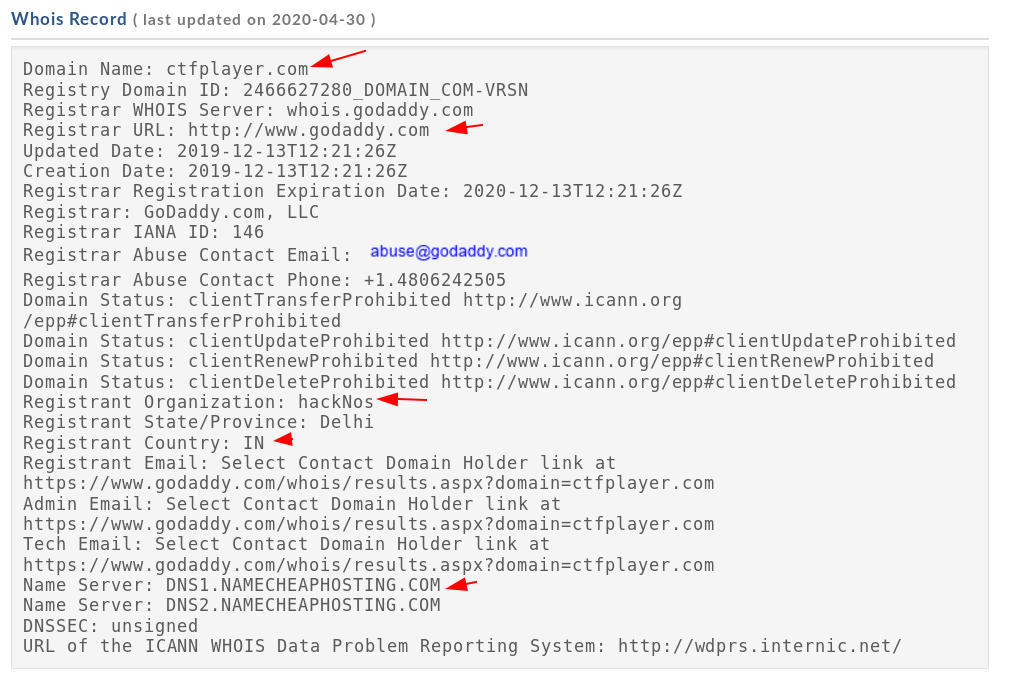 What is Ethical hacking link